PSP Scanner

Small Size, Big Impact
The Apixia PSP Scanner packs tremendous imaging power into a small package. Tiny enough to fit into the most crowded dental operatories for handy chairside use, yet robust enough to fit into the most crowded dental operatories for handy chaiside use, yet robust enough to be placed in a central location for use by the entire office, the Apixia PSP Scanner is the ideal product for any size dental practice. Imaging with PSP plates offers all the flexibility and patient comfort of film, combined with the immediacy and environment benefits of digital radiography. It's truly the best of both worlds.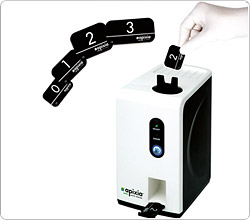 Images in just a Few Easy Step
Imaging is fast and simple: Position and expose the flexible PSP plate just like a piece of film, remove it from the hygienic envelope and drop it into the Apixia PSP Scanner. The smart top loading design harnesses the power of gravity for simple loading and fuss-free use. In less than ten seconds, the crystal clear radiograph appears on the computer screen, ready for viewing. Then, just simply insert the next exposed plate for its next use? Automatically! When the plate is ejected from the bottom of the machine, it's ready for immediate re-use. Plus, plates are reusable thousands of times to maximize your investment.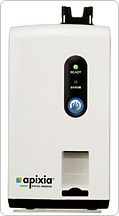 Intuitive Imaging Software
Simplicity, ease of use, and an intuitive design were just a few of the things customers told us they wanted in their imaging software. Apixia digital Imaging Software is included at no charge with scanner. The software delivers dozens of powerful features, presented with simplicity and technological elegance that make the system a snap for every user. Packed with value, Apixia even includes unlimited user licenses to install on as many computers as you wish, free technical support for as long you own the product, for these great Apixia bonuses. An optional Data Grabber module seamlessly integrates all popular brands of Practice Management Software to Apixia Digital Imaging Software, eliminating the need fr double entry of patient data.Just one click and you'll be ready to scan your radiographs!
You should prefer, a versatile TWAIN Driver is also available for direct connection into many popular imaging and Practice Management Programs.
With all these great features, and value pricing that can't be beat, Apixia products are truly fresh Ideas in Digital Imaging. Isn't it time you added the power of affordable, high-quality digital imaging to your practice?