Opteo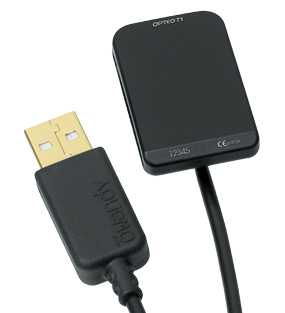 The optimum medical imaging device for your daily practice

Simple & automatic No more cumbersome boxes...
The Opteo's direct USB connection makes its use (with single and multiple station) both simple and intuitive. The three meter cable enables you to connect to your computer no matter what the layout of your office. The unique automatic wake-up system of the sensor reduces the number of steps to take to obtain an x-ray: the capture of a quality image based on the x-ray emissions is also guaranteed.
High-definition & Precision
The direct USB connection guarantees instantaneous X-ray image capture. The high-definition (>20pl/mm) associated to 14 bits grey levels, perfect clarity and ideal brightness and contrast in the images afford excellent legibility of the x-rays. The large active area of the sensor offers an optimum format for the x-ray image. Your diagnosis is therefore accurate, quick and reliable.
Fully adapted to all your clinical practices
The Opteo is available in two sizes: Size 1 (T1) and size 2 (T2) in order to suit all your practices (retroalveolar, posterior, bitewing etc.). It can be used in endodontics, pereodontics, prosthetic surgery and implants, as well as for cavity diagnosis. Also, it is completely watertight, giving you complete flexibility in your choice of disinfection method:immersion, spraying etc.
Reliable & Robust
The Opteo sensor marries very high image resolution with increased equipment reliability. It includes a CMOS chip, fibre optics, scintillator and a shock absorption system. The gold-plated USB connector ensures rapid transmission of the signals and excellent corrosion resistance. The cycle life of your system is also greatly enhanced.
Atraumatic & Ergonomic
The rounded corners and bevelled sides make the Opteo the perfect responseto your handling and patient comfort requirements. In addition to this, the thickness of the sensor and the diameter of the cable have been reduced to a minimum. The flexibility of the cable and its top positioning on the sensor guarantee easy positioning in the mouth: there is no risk of cable rupture, the comfort in the mouth is ideal.