Rayscan a (Alpha)

1. Optimal F.O.V Size 9cm x 9cm
Complete diagnosis region of the maxillar/mandible may be obtained with one acquisition allowing versatile usage in implant procedures and all dental treatments.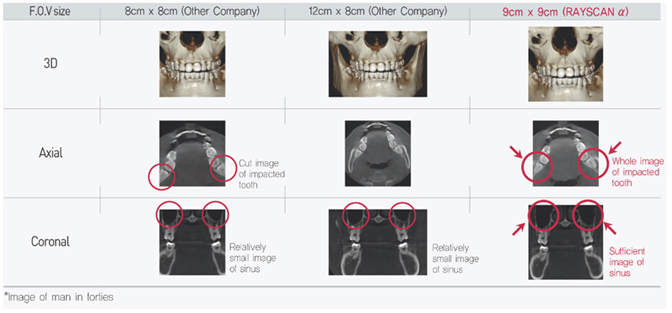 2. Scanning Time Minimization Technology dedicated to Reduce Patient Exposure
High Imaging Technology is producing good quality images by short scanning time.

| | | |
| --- | --- | --- |
| | RAYSCAN | Competitors |
| CT | 14s | 20~24s |
| Cephalometric | 4.0~10.4s | 12~18s |
| Panoramic | 14s | 16~18s |
3. Specialized CT Mode
Image acquisition and reconstruction method are optimized based on the specialized usage.
| | | |
| --- | --- | --- |
| | Standard mode | Provides image for analysis standard CT (Voxel 0.28mm) |
| | SG mode (Surgical Guide) | Provides optimum image for making surgical guide (Voxel 0.28mm) |
| | IS mode (Implant Surgery) | Provides optimum image of implant surgery, supernumerary tooth, and bone absorption (Voxel 0.21mm) |
| | ET mode (Endo Treatment) | Provides optimum image for endodontic treatment and root canal analysis (Voxel 0.28mm) |
| | TMJ mode | 3D images for hospitals specializing in TMJ treatment (Voxel 0.28mm) |
| | Sinus mode | High quality images for sinus treatment (Voxel 0.28mm) |

4. Application of the Next Generation Panoramic Image Layer Control Technology.
Adaptive Moving Focus technology is used to control the focal trough.
Technology which can minimize image error caused by patient positioning.
5. 16bit Full Imaging System with DICOM
Standard provision of 16bit DICOM image to enable further precise diagnosis (Competitors:8bit jpg/bmp).
DICOM Storage SCUser, Worklist SCUser and DICOM Print supported for PACS link.
6. Optimized Cooling Technology for specialized hospitals
Continuous acquisition enabled without the need for forced Cooling.
Supports prevention function of image quality reduction for continuous acquisition.
7. Advanced Design and Usability
World's Top 3 Design Award IDEA 2012 and reddot 2012 award prize product.
Minimized the preparation time and enhanced the user convenience.
Emotional LED lamp allows intuitive check of the equipment condition while contributing to psychological stability of the patient.
World's first to apply the wireless remote control which enables patient's position control while controlling the equipment.
Equipment height adjustment supports all types of patients such as the wheelchair user, children and etc.