Rayscan Expert

Rayscan Expert Features:
Integrated Dental Image Management

SmartDent supports management and diagnosis of the CT/Panorama/Cephalo/Intraoral Sensor/Intraoral Camera images.
Use SMARTDent anywhere in the clinic and Intraoral Camera image acquisition.


Enhanced Image Diagnosis Functionality

DICOM 3.0 is supported for 16bit high resolution image diagnosis.

Various Multi-view functions allow even more convenient diagnosis and efficient consultation.


Convenient Patient and Image Search Function


Periodical and patient search by Modality functions are supported to enable simpler search of the desired patient.
Utilize the image search function by Modality to locate the desired image even faster.

Touch Enviorment considered Simple UI

One Click leads to the location of the desired results, thus eliminating the unnecessary entry steps and providing the easiest and quickest user experince.

Modern and sophisticated graphics enhance both doctor and patient satisfaction.

Touch enviorment design allows use with both Slate PC and Tablet PC (MS supported operating system).


Enhanced Implant Simulation Supported

Image based implant library is used for easy addition of implants of various manufacturers.

The implant color changing function allows you more efficient consultation.Minimized preparation time and enhanced user convenience.
SMARTDENT web (2D Web viewer - Optional):
Features

Convenient use in PC, Tablet and Smart Phone.
Compatible with all operating system (Over Android 4.1, ios 6.0).
Optimal Viewing experience by Responsive Web Design.
No need to install software

Linitations

Local Network only (Internet access is not supported).
Does not support Intraoral sensor & Intraroral camera acquisition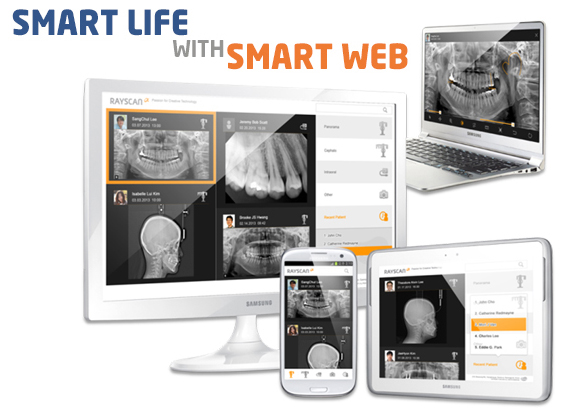 XELIS (3D S/W):
Features

Panoramic images and Cross-sectional images provided.
MPR, MP, X-ray, VR and shading image provided.
Nerve canal drawing function provided.
Function for saving and sharing work course provided
DISCOM printer and CD/DVD burning function provided.